There are many things that you could be doing in order to improve the quality of your life. And definitely, one of the most important things that you could do, in this sense, is to improve your health. There are loads of different methods in which you can improve your fitness and health. Below you will find some more information on the subject at hand.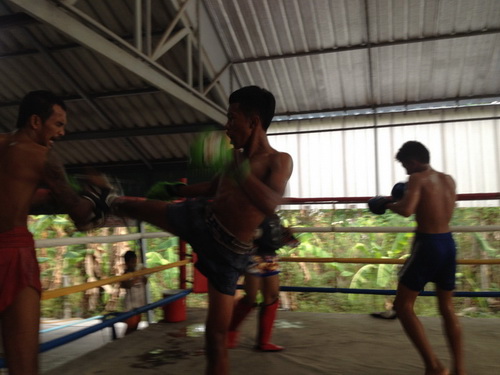 The first thing on your to-do list is to find something that you would enjoy doing in terms of exercising. There are dozens of different methods for this. You can pick any form of exercise and you will do well to start practicing it.
Our personal suggestion is that you go for Muay Thai sport. If you go and find a Muay Thai training camp then the process of improving your health and your life will begin. On the first training session, you can come to expect that things will be difficult for you. But this is only natural. Even the biggest professional competitors in the field of Muay Thai have started off at some point in their lives as complete novices.
So, don't let it discourage you if you can't really keep it together for the first few training sessions. You will experience a lot of sweating and muscular tension – even cramps – until you get your body used to the increased demands. But after a while, you will start to get increasingly fond of Muay Thai.
What can you expect out of each Muay Thai training session? Well, first of all, every training session is dynamic and new things happen. You can't really repeat the same things in the exact same way. But in most cases, you will warm your body first, then do some pad work or bag work, and finally, chances are that you will need to spar.
Don't let the sparring discourage you. It will be scary at first. You will get hit by more skilled opponents. However, if you are in a good Muay Thai school, the instructor will tell everyone to take it easy on you until you find your footing. You won't get hurt by sparing. You will get used to it. We hope that you will manage to defeat your initial fears and hesitation when it comes to training Muay Thai.
That being said, you will still need to find a solid Muay Thai school, to begin with. And this can be easier than it seems. You can go and visit Thailand and there find a first-class Muay Thai training camp. You will have a lot of benefits by doing this. First of all, some of the best teachers in the world are to be found in Thailand. The reason for this is very simple – Thailand is the birthplace of origin of Muay Thai. And many people in Thailand train Muay Thai. It's a national sport – you can't go wrong with finding a Muay Thai gym when you're there. You will dramatically improve your health and the quality of your life if you do this. You can holiday with Muay Thai sport program. Now Muay Thai in weekend is the famous business in Thailand.